L'accés a la xarxa Tor pot tot sovint ser bloquejat pel seu proveïdor d'Internet o pel govern. El navegador Tor incorpora una serie de programari per evitar-ho. Aquestes eines s'anomenen "connectors de transport". Consulti connectors de transport per a més informació del tipus de transport disponible.
Tor Browser currently has four pluggable transport options to choose from.
Utilització de connectors de transport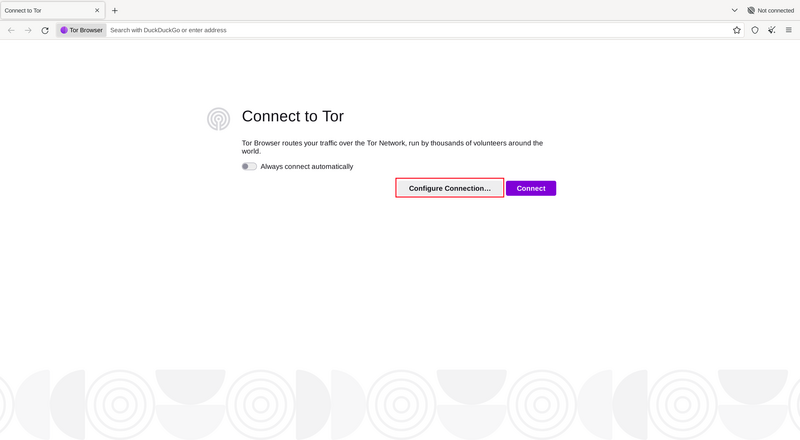 To use pluggable transports, click 'Configure' in the Tor Launcher window that appears when you first run Tor Browser.
You can also configure pluggable transports while Tor Browser is running by clicking on the onion icon to the left of the address bar, then selecting 'Tor Network Settings'.
Select 'Tor is censored in my country,' then click 'Select a built-in bridge.' Click on the drop-down menu and select the pluggable transport you'd like to use.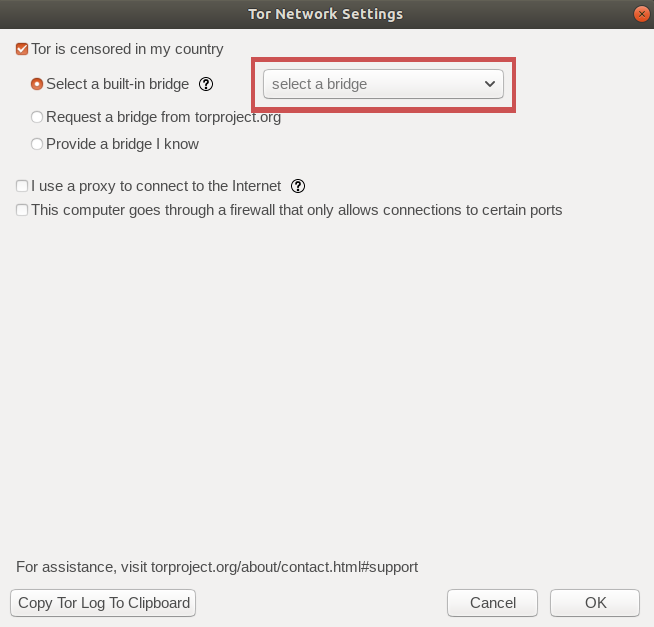 Click 'OK' to save your settings.
Quin tipus de transport vol utilitzar?
Cadascun dels transports llistat en el menú d'iniciador Tor treballa de manera diferent (per més informació, consultar connectors de transport pàgina) per saber la seva efectivitat depenen de les circumstàncies individuals.
If you are trying to circumvent a blocked connection for the first time, you should try the different transports: obfs3, obfs4, fte, and meek-azure.
Si priva totes aquestes opcions, i cap resulta amb una connexió vàlida, haurà d'introduir una adreça de pont de forma manual. Llegeixi la secció d'aprenentatge sobre ponts per saber com fer-ho.