Прямой доступ к сети Tor иногда может блокироваться вашим интернет-провайдером или правительством. Tor Browser включает некоторые инструменты обхода, чтобы обойти эти блокировки. Эти инструменты называются подключаемыми транспортами «Pluggable Transports». Дополнительную информацию о типах транспорта, доступных в настоящее время, смотрите на странице Pluggable Transports.
Tor Browser currently has four pluggable transport options to choose from.
Использование подключаемых транспортов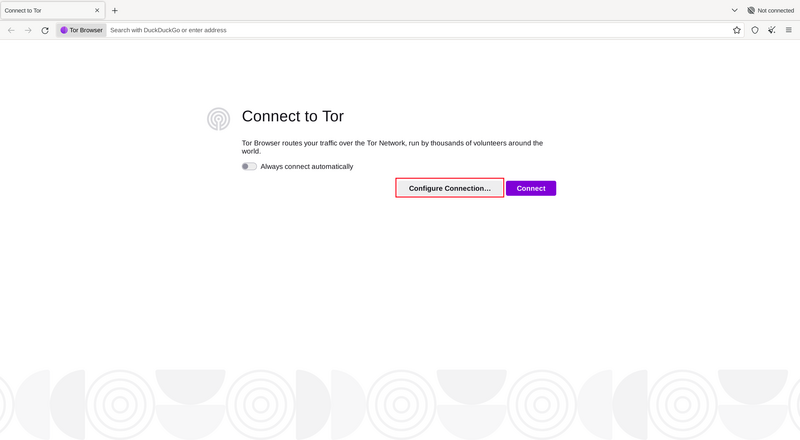 To use pluggable transports, click 'Configure' in the Tor Launcher window that appears when you first run Tor Browser.
You can also configure pluggable transports while Tor Browser is running by clicking on the onion icon to the left of the address bar, then selecting 'Tor Network Settings'.
Select 'Tor is censored in my country,' then click 'Select a built-in bridge.' Click on the drop-down menu and select the pluggable transport you'd like to use.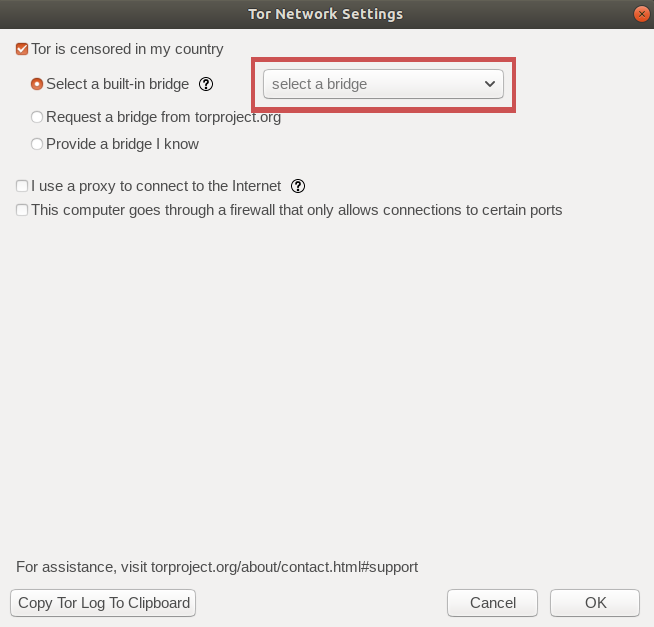 Click 'OK' to save your settings.
Какой транспорт следует использовать?
Каждый из транспортов, перечисленных в меню запуска Tor, работает по-разному (более подробную информацию см. на странице подключаемых транспортов), и их эффективность зависит от конкретных обстоятельств.
If you are trying to circumvent a blocked connection for the first time, you should try the different transports: obfs3, obfs4, fte, and meek-azure.
Если вы попробуете все эти параметры, и ни один из них не поможет вам получить доступ в Интернет, вам нужно будет ввести адреса мостов вручную. Прочтите мосты - Bridges, чтобы узнать, какие бывают мосты и как их получить.