El acceso directo a la red Tor a veces puede estar bloqueado por tu Proveedor de Servicios de Internet (ISP) o por un gobierno. El Tor Browser incluye algunas herramientas de evasión para evitar estos bloqueos. Estas herramientas se llaman "transportes conectables". Lee la página Transportes Conectables para más información sobre los tipos de transporte que están disponibles actualmente.
Tor Browser currently has four pluggable transport options to choose from.
Usar transportes conectables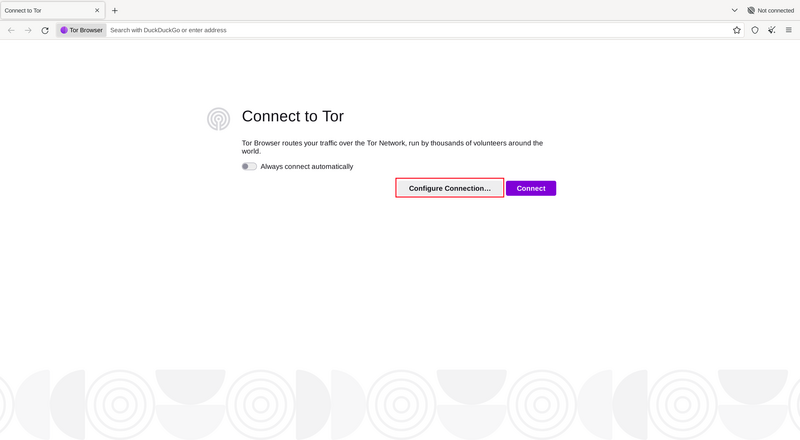 To use pluggable transports, click 'Configure' in the Tor Launcher window that appears when you first run Tor Browser.
You can also configure pluggable transports while Tor Browser is running by clicking on the onion icon to the left of the address bar, then selecting 'Tor Network Settings'.
Select 'Tor is censored in my country,' then click 'Select a built-in bridge.' Click on the drop-down menu and select the pluggable transport you'd like to use.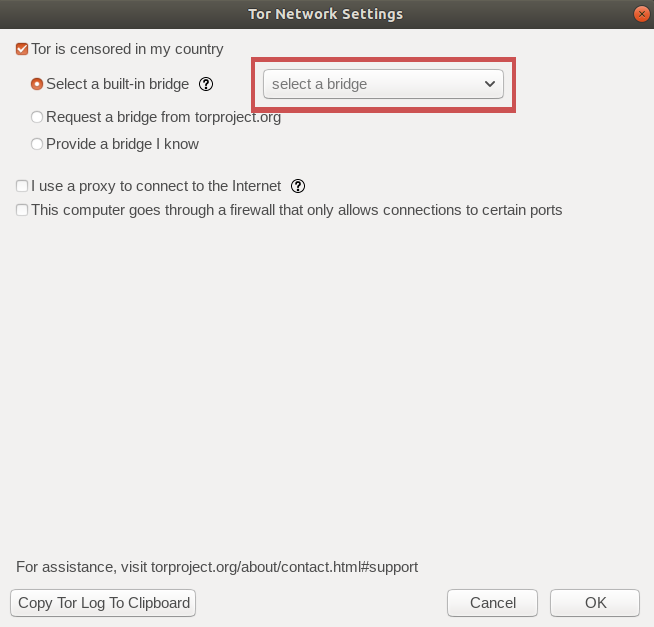 Click 'OK' to save your settings.
¿Qué transporte debo usar?
Cada uno de los transportes listados en el menú del Arranque de Tor funciona de una forma diferente (para más detalles, lee la página Transportes conectables), y la efectividad de cada uno depende de tu situación.
If you are trying to circumvent a blocked connection for the first time, you should try the different transports: obfs3, obfs4, fte, and meek-azure.
Si pruebas todas estas opciones y no consigues conectar con ninguna de ellas, necesitarás introducir direcciones de puentes de red manualmente. Lee la sección Puentes para saber qué son los repetidores puente y cómo obtenerlos.