Els connectors de transport són eines que Tor utilitza per disfressar el tràfic que envia al exterior. Això pot ser d'utilitat en situacions com quan els proveïdors d'Internet o altres autoritat bloquegen les connexions a la xarxa Tor.
Tipus de connectors de transport
Actualment hi han sis connectors de transports per utilitzar, però n'hi ha més en desenvolupament.
| | |
| --- | --- |
| obfs3 | obfs3 fa que el trànsit de Tor sigui aleatori, de manera que no s'assembla a Tor o cap altre protocol. Encara que s'inclou per defecte, es recomana utilitzar obfs4, ja que té diverses millores de seguretat sobre obfs3. |
| obfs4 | obfs4 fa que el tràfic Tor sigui aleatori com obfs3, però també pot prevenir la censura del escaneig de Internet. El pont obfs4 permet menys bloquejos que el obfs3. |
| FTE | FTE (format-transforming encryption) emmascara el tràfic Tor com una connexió (HTTP) web. |
| meek | meek transports all make it look like you are browsing a major web site instead of using Tor. meek-amazon makes it look like you are using Amazon Web Services; meek-azure makes it look like you are using a Microsoft web site; and meek-google makes it look like you are using Google search. |
| Snowflake | Snowflake és una millora en Flashproxy. Envia el teu trànsit a través de WebRTC, un protocol punt a punt amb NAT incorporat. |
How to use pluggable transports
To use a pluggable transport, first click the onion icon to the left of the URL bar, or click 'Configure' when starting Tor Browser for the first time.
Next, select 'Tor Network Settings' from the drop-down menu.
In the window that appears, check 'Tor is censored in my country,' then click 'Select a built-in bridge.'
From the drop-down menu, select whichever pluggable transport you'd like to use.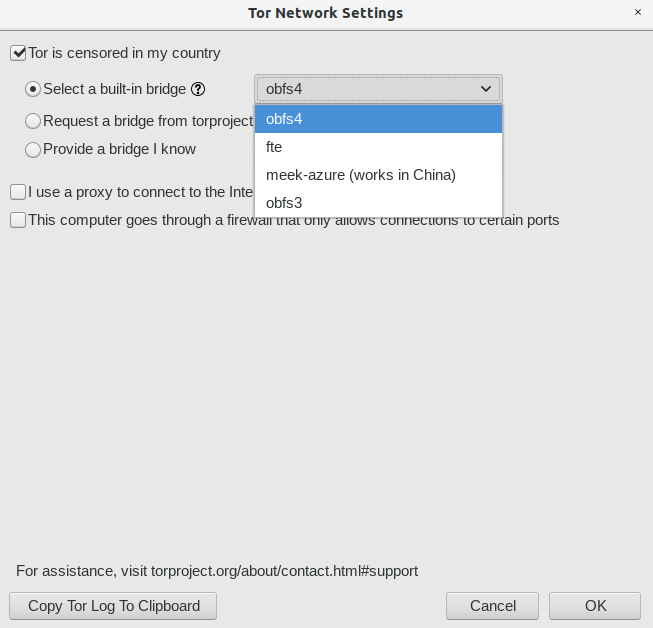 Once you've selected the pluggable transport you'd like to use, click 'OK' to save your settings.